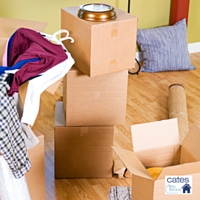 Moving Checklist
The trauma of moving can be an added stress for both buyers and sellers. Checklist to make things calmer before closing:
Weed out items you won't be moving; hold a garage sale or donate them to charity.
Get estimates from moving companies.
Make a list of people and organizations—credit cards, magazines, college alumni associations—that will need to be notified of the move.
Look at schools and day care facilities in new area. Forward school records.
Complete change-of-address forms.
Contact doctors and ask for referrals if you're moving to a new city. Forward medical records.
Check homeowners' policy to see if possessions are covered during the move.
Decide how you'll move valuables.
Get information on driver's license, insurance policy, license plates, and auto stickers if you're moving to a new city.
Contact utility companies—gas and electric—in both cities.
Register with an Internet service provider.
Contact phone service—see if your long distance, cellular, and Internet providers operate in the area.
Contact satellite and cable TV providers.
Empty and dispose of all items in the refrigerator.
Map out driving route to new home.
For assistance with local movers and area help, contact us at 207-701-5600 or info@catesre.com